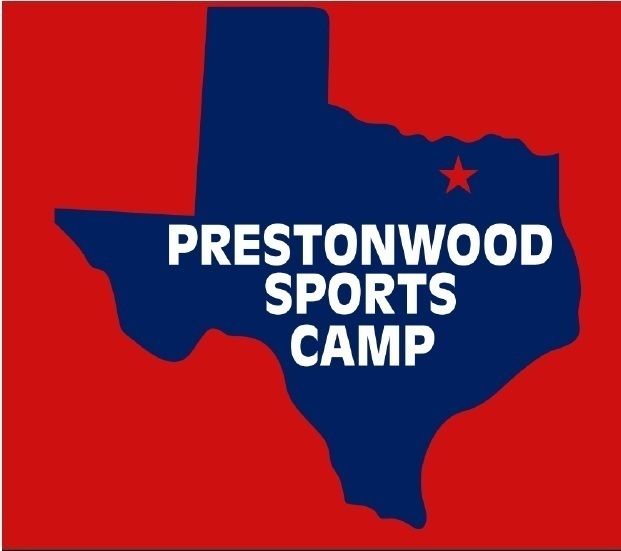 Sports Camp (Session 3)
June 17, 2019 - June 21, 2019
5 Sessions
34 spots per session
About the Event
Ages 5- 12
• Sessions are held Monday - Friday at The Clubs of Prestonwood Creek Course
• Drop-off outside of top tennis courts
• Pick-up at circle drive by pool
• Sessions will be divided into smaller groups based on age and ability.
• Ages 5-12 (*Age 5 may be accommodated if a first day of camp goes well. Age 4 and younger cannot be accommodated; our apologies for any inconvenience)
• All classes & camps hosted through Prestonwood Golf Academy & Prestonwood Tennis Academy will focus on quality instruction by keeping the student:teacher ratio lower and enlisting educated instructors who have a passion for growing the game of golf & tennis.

Hosted by
Our Mission Statement:
To enrich the lives of our members and guests by providing exceptional instruction that promotes the enjoyment of the game of golf.


Teaching Philosophy:
The Instruction Team at The Clubs of Prestonwood believes in focusing on fundamentally proven athletic movements...
Junior - Member (Camp ONLY)
Junior - Non-Member (Camp ONLY)
Junior - Member Half Day (Camp ONLY)
Junior - Non-Member Half Day (Camp ONLY)
Junior - Partial Week per Day
Mon, June 17th, 2019
8:00am - 8:45am
Before Care
8:45am - 9:00am
Drop Off
9:00am - 9:15am
Announcements | Organization of Groups
9:15am - 10:00am
Golf Instruction | Tennis Instruction
10:00am - 10:15am
Break (Snacks, Water, Shade) | Badge Quiz
10:15am - 10:45am
Golf Instruction | Tennis Inside Activity
10:45am - 11:15am
Golf Inside Activity | Tennis Instruction
11:15am - 11:30am
Break (Water, Shade) | Badge Quiz
11:30am - 12:00pm
Golf Challenge | Tennis Challenge
12:00pm - 1:00pm
Lunch
1:00pm - 4:00pm
*Switch Groups* (Repeat of Morning Schedule) Golf AM = Tennis PM | Tennis AM = Golf PM
4:00pm - 5:00pm
Swimming
4:45pm - 5:15pm
Pick Up
5:00pm - 6:00pm
After Care
Tue, June 18th, 2019
8:00am - 8:45am
Before Care
8:45am - 9:00am
Drop Off
9:00am - 9:15am
Announcements | Organization of Groups
9:15am - 10:00am
Golf Instruction | Tennis Instruction
10:00am - 10:15am
Break (Snacks, Water, Shade) | Badge Quiz
10:15am - 10:45am
Golf Instruction | Tennis Inside Activity
10:45am - 11:15am
Golf Inside Activity | Tennis Instruction
11:15am - 11:30am
Break (Water, Shade) | Badge Quiz
11:30am - 12:00pm
Golf Challenge | Tennis Challenge
12:00pm - 1:00pm
Lunch
1:00pm - 4:00pm
*Switch Groups* (Repeat of Morning Schedule) Golf AM = Tennis PM | Tennis AM = Golf PM
4:00pm - 5:00pm
Swimming
4:45pm - 5:15pm
Pick Up
5:00pm - 6:00pm
After Care
Wed, June 19th, 2019
8:00am - 8:45am
Before Care
8:45am - 9:00am
Drop Off
9:00am - 9:15am
Announcements | Organization of Groups
9:15am - 10:00am
Golf Instruction | Tennis Instruction
10:00am - 10:15am
Break (Snacks, Water, Shade) | Badge Quiz
10:15am - 10:45am
Golf Instruction | Tennis Inside Activity
10:45am - 11:15am
Golf Inside Activity | Tennis Instruction
11:15am - 11:30am
Break (Water, Shade) | Badge Quiz
11:30am - 12:00pm
Golf Challenge | Tennis Challenge
12:00pm - 1:00pm
Lunch
1:00pm - 4:00pm
*Switch Groups* (Repeat of Morning Schedule) Golf AM = Tennis PM | Tennis AM = Golf PM
4:00pm - 5:00pm
Swimming
4:45pm - 5:15pm
Pick Up
5:00pm - 6:00pm
After Care
Show More